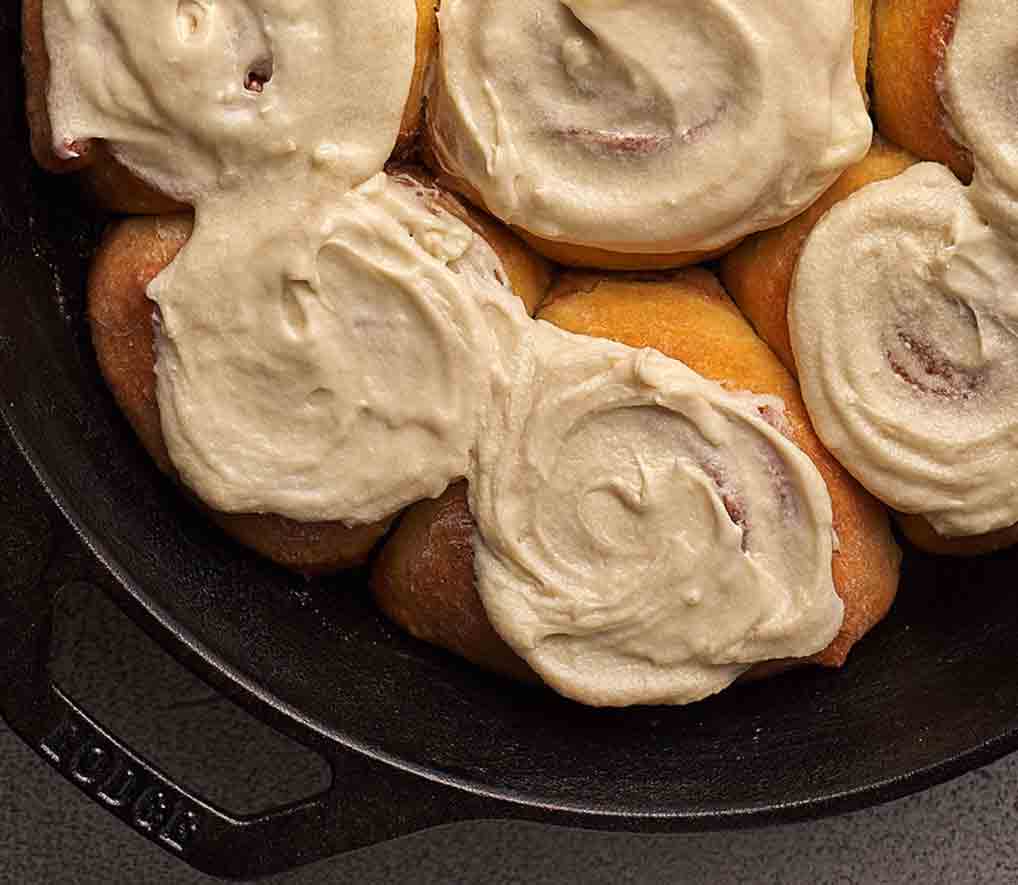 Maple Cinnamon Rolls with Whiskey Buttercream
Ingredients
Cinnamon Rolls
½ cup butter
½ cup sugar
2 cups Gandy's Dairy milk
1 (1/4-ounce) package active dry yeast
4 ½ cups all-purpose flour
1 teaspoon salt
½ teaspoon baking powder
½ teaspoon baking soda
1 ½ cups firmly packed brown sugar
1 cup butter, softened
2 tablespoons ground cinnamon
Buttercream
½ cup butter, softened
1 (8-ounce) package cream cheese, softened
4 tablespoons (2 ounces) whiskey (optional)
½ teaspoon maple extract
3 to 3 ½ cups powdered sugar
How to
To make cinnamon rolls, in 4-quart saucepan melt ½ cup butter over medium heat. Stir in sugar and milk; continue cooking until just begins to simmer (bubbles around edges of saucepan). Remove from heat; let cool to warm (110 to 115°F) about 30 minutes.
Sprinkle yeast over warm milk mixture. Let stand 1 minute. Stir in 4 cups flour.
Cover saucepan and let rest in warm, dry place 1 hour.
Stir in remaining ½ cup flour, salt, baking powder and baking soda. Cover; refrigerate 30 minutes.
Meanwhile, in small mixer bowl beat together brown sugar, 1 cup softened butter and cinnamon until thick paste forms; set aside.
Butter bottom and sides of 2 (13×9-inch) baking pans; set aside.
Place chilled dough on floured surface. Sprinkle top of dough with a little more flour; roll dough into 15×12-inch (about ½-inch thick) rectangle.
Spread dough with brown sugar and butter mixture to within ½-inch of edge. Beginning with 15-inch edge, roll dough up tightly into log. Pinch edge of dough into roll to seal edge. Log will be about 16 inches long.
Using a sharp serrated knife, cut roll into 16 (approximately 1-inch) slices. Place 8 rolls in each prepared pan. Cover with clean kitchen towel; let rest in warm spot 30 minutes.
Meanwhile, heat oven to 350°F.
Bake for 22 to 25 minutes or until golden brown. Let cool 10 minutes before frosting.
Meanwhile, in large mixer bowl beat together ½ cup softened butter, cream cheese, whiskey and maple flavoring until smooth and creamy. Beat on low speed, slowly adding powdered sugar, until smooth and creamy. Frost warm rolls, serve immediately.
Recipe and image provided by Half & Half magazine.

Other Recipes You Might Like